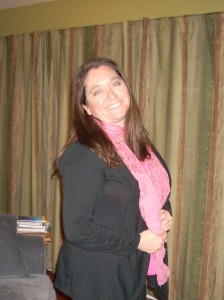 I write so that the desert landscape of my childhood can be heard as loudly as the urban chaos of my adulthood. Growing up in tiny, isolated corners of the Southwest – Holtville, California; Hatch, New Mexico; Poston, Arizona; and Blythe, California – all I dreamed of is escaping.
At 17, I fled to UCLA (and a slew of parking tickets because I'd never seen a meter before and paying to park was an alien concept). In spring of 1995, my Chicana/o Studies professor suggested I attend Wings/Alas – the Latina Writers' Workshop. There I discovered that my imaginary friends and all the conversations I'd been having with myself didn't mean that I was crazy, they meant I was a writer. At Flight of the Mind the following year, I was prompted to write about my most wonderful memory. I chose the day my grandfather died because on that day he became my guardian angel and has watched over me for more than 35 years. It became my first published story, "Discordant Voices."
While I have been living in Los Angeles for the past 24 years, my roots are deeply embedded on a dirt road near a trailer I once called home. Drawing on my experiences in 4-H and junior rodeo competitions, I am writing a novel about a girl who loves horses more than people. Relying on the photos my parents saved all these years, fragments of memory, and occasionally attending CJRA and CHSRA events, I am determined to finish it soon because my niece is dying to read it. And hopefully share it with all her friends.
Presently, my writing happens in binges – on weekends, winter break, spring break, and summer vacation (after summer school ends, of course). I light the candle, pour a glass of sweet tea, and turn on theme music – which at present is country hits of the 80s.
On weekdays I take more than 150 not-always-willing teenagers each year on vari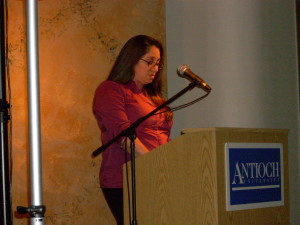 ous literary adventures. In spite of the adolescent-inspired exhaustion, I managed to earn my MFA in Creative Writing at Antioch University. There I was mentored by amazing faculty and continue to rely on weekly support from my Citron cohort as well as the constant encouragement from a few Orioles, some Sages, a Heliotrope, my Samohi colleagues, Women Who Submit, and my very understanding family.